Claude Taylor Art Collections
Shop for artwork from Claude Taylor based on themed collections. Each image may be purchased as a canvas print, framed print, metal print, and more! Every purchase comes with a 30-day money-back guarantee.
Artwork by Claude Taylor
Each image may be purchased as a canvas print, framed print, metal print, and more! Every purchase comes with a 30-day money-back guarantee.
About Claude Taylor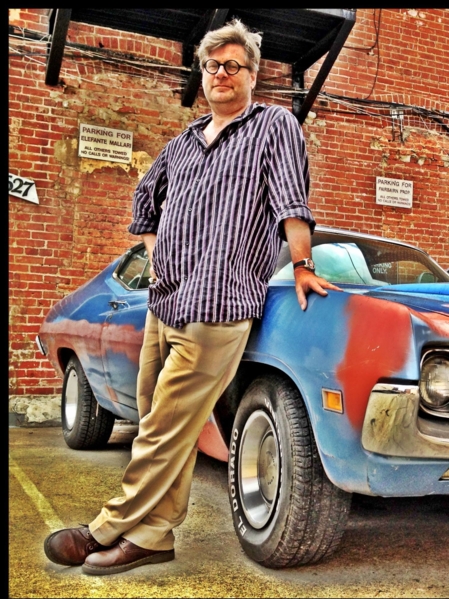 Taylor is a travel photographer. To date he has taken about 25 trips to various places around the world for the business, not the pleasure, of taking pictures. He shoots from sun up to sun down, documenting on 35mm film places most people will never see. His pictures are full color, except for a special black and white excursion in France. Taylor's photos capture the beauty of the world through his own eyes.

"I like looking at pieces of things to see the whole, rather than seeing the whole to understand the pieces of things," Taylor says. He photographs life, not scenery.

He hasn't always made his living this way. Born in New York City on August 28, 1963, the day Martin Luther King made his "I have a dream" speech; Taylor's road to professional travel photographer was marked by serendipitous twists and turns. Raised in Maine, he worked for the Clinton campaign in 1992 and again in 1996. In between, he had what calls "a boring staff job" in the White House. But the boring staff job, like all government jobs, came with a few perks.

"They were sending me to some very interesting places," Taylor says, "Guantanamo Bay, Japan, Albania, Argentina, Uruguay. I was going to some cool places so I figured I should get a camera. I took pictures and found that I was enjoying the photographs more than I was enjoying the government work. The Left Bank, as the business was then known, was born. When the store opened in 1998, the kitschy French figurines of Tin Tin, Barbar and the Little Prince were not just limited to one shelf, but part of the central theme of the store that sold no photographs.

"French culture, Curious George and Madeline. Most of what we did focused on classic children's literature, " said Taylor. After the store's first year, he began selling photographs from two trips he had taken. He had first sold his prints for extra cash at the Georgetown flea market during his year off in 1997.

"That's when I realized that there might actually be a market for this," Claude says, " That someone might be willing to pay $30 for one of my photos that they would hang in their hallway."

They sold well in the store, so he expanded the photo section to include his Italy trip. He kept taking more trips and coming back with more pictures and now the store is 95% photographs. He plans on phasing the kitschy stuff out within a few months after he has taken another three or four trips.

Claude is also an anti-Bush propagandist. He sells political mugs, buttons and bumper stickers that are products of Taylor's Mad Dog brand, a separate political expression sideline, and represent the part of Taylor that just can't stay out of politics entirely.

"I like to keep my toe in," Taylor said of his business within a business where the newest product is a button that says Bush Sucks. Taylor was in charge of printing such things for the Clinton campaign, so he has plenty of experience with the bumper sticker sound bite. Phasing out these items, which he handed out by the thousands during Bush's first inauguration protest, would be bittersweet for the photographer. "I would love for Kerry to win and not have to do any political stuff; but," he says with a laugh "I would lose money."

Taylor takes six trips a year to various places around the world. Although it might seem like he lives in a perpetual state of vacation, they really are business trips. He researches each trip by reading a travel guide or the area cover to cover, as well as some history about the area, and a novel set in the area. He does not spend time relaxing or getting to know the locals. He takes pictures, thousands of them, and he taught himself the business side of it just as he taught himself the artistic side.

"That's sort of what he does for a living; sit there and look picturesque," Taylor says as he holds up a stunning photo of an ancient looking Cuban man smoking a pipe on a dilapidated front stoop. "I gave him two bucks and took the picture, and he's happy and I'm happy and I've probably made a couple thousand from his photos. It would have been chintzy of me not to give him the two dollars." He notes that despite any language barriers he might encounter, everyone speaks dollar.

"When he gets back he's entirely wrapped up in the photos," says Paul Serici, 23, one of Taylor's employees of about two years. "He doesn't talk much about the trip." Serici says that the days after Taylor returns from a trip are not very communicative. His picky eye for detail consumes him when selecting his best shots. Once the 80-plus select pictures from each trip are blown up and framed, the meticulousness doesn't stop.

"If I don't Windex the pictures well enough, he'll tell me," says Serici. But he won't notice a spot on his glasses for a week. This is the transition from politico to artist.

Taylor can be distant. At times he seems bored and arrogant. He doesn't want to talk about himself. He can be impatient with some customers: "Some people came in asking if I had any Kerry Sucks stickers. I told to get the hell out of my store," he says nonchalantly. But his big secret is that he is really a big softy. "When people show an interest, he can be really nice and give them discounts. He has favorites," says Serici.

Taylor is undoubtedly charmed by certain people, and by no one more than his son, Avi. He keeps a picture of the adorable six-year-old on the wall behind the desk. Taylor gets him on weekends, when he has one of his five employees watching the store. Avi has dimples, and looks like his mom, but moves like his dad, according to Serici. "That's one of the best times to see Claude with his guard down," Serici adds.

But his guard is up most of the time, especially when he talks about religion and nationality. He presents his views as absolute, but clearly has not yet answered all of his own questions.

"I'm kind of between religions right now," he says in a half joking way. He is fascinated by the history and culture of Judaism, but notes some of the fundamental problems with the religion. As he talks about religion, a chip appears on his shoulder.

"If I had been born Jewish and happened to be an atheist, nobody would have a problem calling me a Jew. But if I wanted to become a Jew, there is a very fundamental theological problem, namely does God exist or not. In which case I have a problem because I don't think he does," says Taylor as he explains his dilemma. Taylor wants Avi, which is a Hebrew name Taylor just happened to like, to make up his own mind about religion too. Avi's mother and Taylor's ex-wife is a lax Catholic.

But even as he complains, it is easy to see that Taylor sort of revels in his outsider status. He does not belong to any professional photography societies, because he's "not a joiner." He even feels like he doesn't belong in America any more.

"What's happening with this election, Christian Fundamentalists, NRA nuts, I feel almost completely alienated from this culture," he says as support to his hypothesis that he is a European who somehow ended up being an American.

"I don't think countries are that important. I don't think that because I happened to be born American means anything. I could have happened to have been born a Brazilian or a Frenchman, or an Indian. I don't think national boundaries should be that vital."

"I would leave tomorrow if I could, but I have a business here. I have a six-year-old son here. It's not that easy," Taylor says. For someone who thinks people should be able to move freely about the world, he is certainly in the right business.

Kevin Reid, a photographer in town to take pictures of the homeless behind the White House runs around the gallery like a kid in a candy store. He is in awe of Taylor's work, and excited about life in a way that explains his manic movements around the gallery to marvel at one photo after another.

"Would you look at this one?" Reid says as he holds up a landscape shot of Egypt. Those in the know recall how Taylor rode the couple hundred miles from Luxor to Aswan in a military controlled convoy where his taxi was made the lead car. A soldier sat in the front seat with an AK 47 leaned over his shoulder pointing directly at Taylor. Knowing the moment right was show his friendly side, Taylor would ask "Do you think you could, like, move that a little bit?", and the soldier, who had forgotten about the gun's position, would laugh and kindly oblige. This happened over and over again on the way to Aswan.

To those who don't know the story, the picture is just as beautiful. The image creates a fantasy in the eye of the beholder.

As the photographs take over the last bit of kitsch, the gallery's transformation is almost complete. Taylor, however, seems to be an ever evolving individual. His work has taken him around the world, over walls and fences and under gates. He plans to be a travel photographer for some time to come, but 20 years from now, he cannot say.

And what about Mad Dog in the wake of the election? Taylor already has a new slogan ready: Yes, Actually I do hate George Bush.